Most business owners know by now, social media is a key marketing tool for their business. During the unprecedented time due to Covid-19, companies understand the importance of their digital marketing presence. Especially how social media help them to create a community around local business and develop a strong relationship with their clients.
But what about using social media to generate leads and bring more clients to your business. These leads eventually will turn into customers, this is one of the most valuable advantages of social media.
To get the most of your social media, it is important to understand the importance of knowing the target, their social media habits, and what type of content is ideal for each social media channel. In fact, for many marketers, social media marketing is the most effective way to lead generation.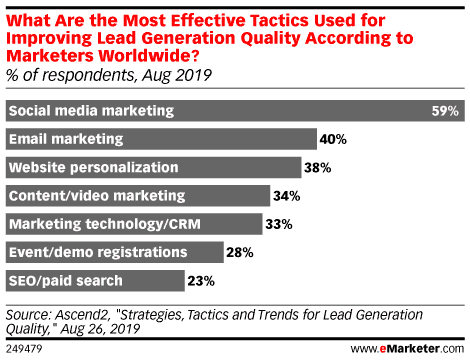 What is Social Media leads and Why Does it Matter?
Social media generate leads and bring more opportunities to your business. A lead is any information such as (name, phone number, email address, occupation, and more) that a potential client submits, and that can be used to create a relationship with them. A quality social media lead is information that allows a more personal relationship with clients and the business will be able to sell more effectively products and services to them.
The best platform for generating leads for digital marketers is Facebook. However, it is not the only social media platform business should consider. According to LinkedIn, 89% of B2B marketers turn to LinkedIn for lead generation. These marketers say LinkedIn generates more than two times as many leads than other social channels.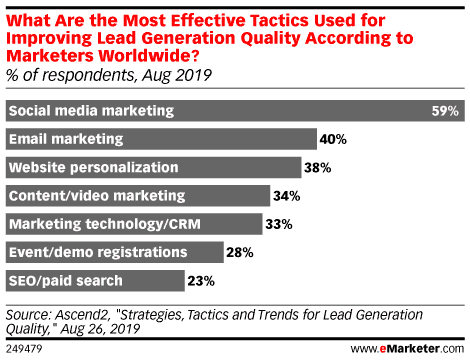 Some platforms have 2 types of capturing leads.
Direct Leads:
These types of leads collect information about a potential customer when the business share content that links to a form on a specific website, and visitors can share information in exchange for an offer.
Indirect Leads.
These types of leads are generated using a path to conversion. In these cases, an article relevant for your audience is shared, and the article has a call to action that direct visitors to a landing page.
How to get more leads from Social Media
Check these tips that will help you to capture more leads using social media:
To get more leads from social media these are some
Optimize your profile.
Each platform offers different contact information options. Make sure everything is in place to collect your leads organically.
Also, add call-to-action buttons to subscribers, schedule an appointment, visit the website, or make a call.
Create clickable content
Each social media have different ways to engage with the followers, optimize your content to direct your followers to a specific page. Be sure each post has a clear call-to-action.
Some examples of clickable content:
Landing Pages:
When someone clicks in one of your posts, you want to offer what they are looking for. The landing page should be relevant to the product and with clear call-to-action. This are some things you need in your landing page:
Easily scannable
Provide users with a clear path
Be as personal as possible
Pre-fill as much information as you have available
Reduce the number of questions
Offer an incentive
Use ads to capture Leads
Organic leads are a great way to grow a database, however, adding a paid strategy will boost efforts and escalate your business faster.
Here are some platforms that allow you to generate leads:
Facebook Lead Ads: These are promoted forms that collect information about your potential clients and can be synced with your CRM. Make sure you install a Facebook pixel on your page to remarketing the people that visited your page.
Instagram Lead Gen Ads: Similar to Facebook this offer leads will help you to collect information. This type are usually created on Facebook Business Manager, and you can add this when you are creating a campaign for Facebook.
YouTube Action for Ads: This platform offers a clear call to action in their platform for users to submit their info.
LinkedIn Lead Gen Forms: This type of ad feature direct call to action and according to LinkedIn, the average conversion rate on their platform is 13%, that is really high compared to a website conversation that has a rate of 2.34%
10 types of Leads Generation to increase conversions 
As social media is evolving, business strategy should evolve too.
Ebooks
Trials
Cheat Sheets
Checklists
Quizzes
Guides
Templates
Webinars
Kits
Email Subscriptions
As social media is evolving, business strategy should evolve too.  When you generate leads, remember to discover what social platform is better for your business and which ones bring you more results. We hope this blog post will help you to bring some ideas. However, social media is constantly changing but nothing is more precise then testing each strategy for your audience.